Our Guide to Sleeping Bag Liners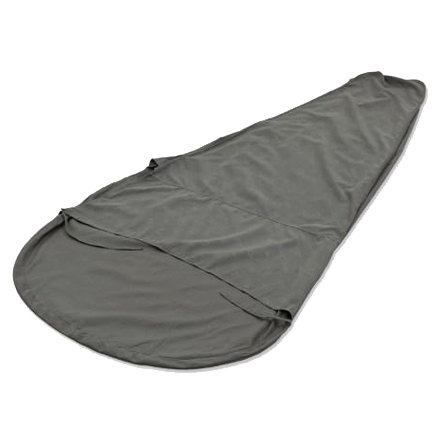 Our mission is to get people outdoors. Since most people aren't enthusiasts who venture outside regularly, you can buy or rent sleeping bag liners. Specifically, about our sleeping bag liner rentals:
We rent sleeping bag liners that are higher end than those rented elsewhere, but still offer competitive pricing
We offer a rent-to-buy program so you don't have to worry about losing money from renting
Our self-service allows you to hire sleeping bag liners whenever is convenient for you
Core function: There's not a core function for sleeping bag liners. You can think of them as sheets, a very multi-purpose piece of bedding! Commonly, these are used: 1) for warmth - either in addition to the sleeping bag or as a standalone blanket, or 2) for hygiene (a barrier between you and the sleeping bag, like how in the hotel the sheet is a barrier between you and the duvet).
Do you really need it?
No. If you're borrowing someone else's sleeping bag (rather than renting a sleeping bag from a rental shop where certain cleaning & sterilization practices have to be followed), you may find it easier to rent a sleeping bag liner for hygiene purposes .
For more info, read our 'what you really need' protip
What we carry
Material
Synthetic
Cotton
Mummy-shaped
Rectangular-shaped; fully opens, best if more space is needed
Model
Cocoon Microfiber liner
Cocoon Cotton liner

Buy

MSRP with tax

$27
value
$33
value
Rent
$5+
Weight
9oz
255g
15oz
425g
Carry size & notes
A regular burrito
A super burrito
General Notes
We choose what we carry based on extensive research on what's the best value to our customers (e.g., price given performance & durability features) across all the top brands. We specifically do not carry every brand & model; for details on why we do/don't carry certain items in the following What To Use & How To Choose section
Buy prices a grayed out box indicates we don't sell it (we may only rent sleeping bag liners of this model)
Rent prices are the starting prices; enter trip dates on our Catalog to get exact prices (based on total trip length, not per day!). We also don't charge sales tax, an automatic savings of almost 10%!
When you hire sleeping bag liners online, you can select from available options or we'll pick out something for you. You can also write-in any preferences on the last page of checkout. This section describes the majority of our models & options, but sometimes we carry others.
---
What to use & how to choose
Sometimes it's easy to get lost in all the hype of something new (over-spending often happens on features). Our guide focuses on the fundamental factors you should always keep in mind (thus, this short list is similar across all items). Then only at the end do we have some questions to get you thinking about other minor features. Also take advantage of renting sleeping bag liners to try out what works for you!
We highly recommend reviewing Type or Style first, where we review what you can use to address the Core function--a regular item you have at home may work! The other factors are secondary & depend strongly on the Type or Style you've picked; in fact, for other factors data charts are generally only for a specific Type or Style that we carry (e.g., as a gear shop, would be outdoor-specific products).
We've organized the most commonly used items people use to address the Core function below, with example images, characteristics, features, etc.
With sleeping bag liners, like with sleeping bags, there are 2 primary dimensions that you should consider in terms of type or style.
Name
Sheet
Sleeping bag liner*
Single sheet, thinner than a blanket
Think of a sheet folded in half & stitched together, may also have a hood
Example images
Effect on other factors
Price
$10-50
$10-60
Warmth
Given shape-only
No comparable temperature rating
Not enclosed, so doesn't keep out drafts & may create excessive dead air
Adds up to 8F (4.4C)
Enclosed & may be form-fit to minimize drafts & excessive dead air
Size (Capacity)
Twin to king size
Individual sized
Weight
Not optimized for weight
Up to 16oz (454g)

Why we do/don't carry it

= we rent
= we sell
Not specific enough for outdoor use



Standard for most outdoor uses
*Sleeping bag liners also come in rectangular or mummy shape. Since this shape impacts other factors similarly as we've already discussed for sleeping bags, and the shape is less of a big deal since the liner is more of an accessory item, we have not separated liners into shapes here.
Like a sleeping bag, there are larger liners for larger people. Since liners are already so small & lightweight, we won't do an in-depth analysis here, but the same concepts apply as from sleeping bags: the larger the liner, the more expensive & heavy. And with larger liners, there's a trade-off between roominess & insulation.
Most people are not super picky about material, but it is important to call out because this will affect other factors, most importantly, price.
Sleeping bag liner material
Silk
Synthetic (e.g., microfiber)
Cotton
Effect on other factors
Price
$40-60
$20-40
$10-30
Warmth*
Up to 8F
(4.4C)
Up to 6F
(3.3C)
Up to 4F
(2.2C)
Weight & Size (Compactness)
Up to 6oz
(170g)
Up to 10oz
(283g)
Up to 16oz
(454g)

Why we do/don't carry it

= we rent
= we sell
Much more expensive relative to the improvements in weight savings or warmth



Versatile for most outdoor uses, therefore more worth the money




For rent for sleepers who need extra capacity; extremely limited availability, please write-in a special request when you reserve

We only offer liners for rent since most people would just buy a sleeping bag (whereas with rentals, even though bags are sanitized between uses, some people want a hygiene barrier)
*Warmth added when paired with a sleeping bag. Whether the max is attained really depends on individuals, your body heat generation, other layers, etc.
Here, we give you a list of questions to start thinking about other features. We hope our approach of savings these features for last gets you to more critically think about what you need & not get caught up in the hype of what's cool and over-spend your budget. Remember, we allow you to hire a sleeping bag liner so feel free to try out various models with different features.
Is it completely stitched shut or does it use buttons or velcro so that you can undo it (similar to unzipping a sleeping bag)?
Is there a way to cinch it tight around you?
Does it have a hood?
---
Usage tips
It's easiest to get into your liner first, and then get into your bag!
---
Maintenance tips
Cleaning
This can be washed in a regular washing machine, like doing sheets
Repairing
Sew up rips, tears, or holes, or apply a patch; generally any tailor should be able to do this
Storing
Store when clean & dry. Since this is basically just a sheet, it's less imperative to store it loosely, as it is with other gear
We have a general protip on how to store & maintain gear that we highly recommend reviewing as well. If you send us video or a good photo series, we may be able to help you evaluate your repair needs.
---