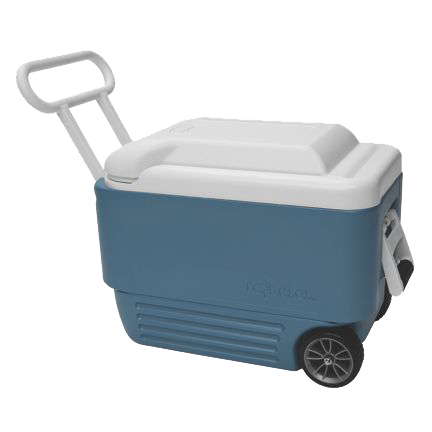 Our mission is to get people outdoors. Since most people aren't enthusiasts who venture outside regularly, you can buy or rent coolers. Specifically, about our cooler rentals:
We offer a rent-to-buy program so you don't have to worry about losing money from renting
Our self-service allows you to hire coolers whenever is convenient for you
Core function: Whether to keep perishable foods fresh, drinks ice cold, or even some personal care products from melting in the heat, coolers have you covered!
Do you really need it?
Food is essential, but there are many ways to plan food that don't require this (e.g., energy bars or non-perishable foods). If you normally go with 1-2 people and don't plan to need coolers, but are suddenly planning a much larger group trip, renting a cooler is a very convenient way to save space at home .
For more info, read our 'what you really need' protip
What we carry
Capacity
Standard hard-shell cooler Type
40 quart
(38L)
60 quart
(57L)
Model
Igloo MaxCold
Igloo Ice Cube

Buy

MSRP with tax

$50
value
$45
value
Rent
$8+
Size
24X14in & 18in tall
61x36cm & 46cm tall
20in cube
51cm cube
General Notes
We choose what we carry based on extensive research on what's the best value to our customers (e.g., price given performance & durability features) across all the top brands. We specifically do not carry every brand & model; for details on why we do/don't carry certain items in the following What To Use & How To Choose section
Buy prices a grayed out box indicates we don't sell it (we may only rent coolers of this model)
Rent prices are the starting prices; enter trip dates on our Catalog to get exact prices (based on total trip length, not per day!). We also don't charge sales tax, an automatic savings of almost 10%!
When you hire coolers online, you can select from available options or we'll pick out something for you. You can also write-in any preferences on the last page of checkout. This section describes the majority of our models & options, but sometimes we carry others.
---
What to use & how to choose
Sometimes it's easy to get lost in all the hype of something new (over-spending often happens on features). Our guide focuses on the fundamental factors you should always keep in mind (thus, this short list is similar across all items). Then only at the end do we have some questions to get you thinking about other minor features. Also take advantage of renting coolers to try out what works for you!
We highly recommend reviewing Type or Style first, where we review what you can use to address the Core function--a regular item you have at home may work! The other factors are secondary & depend strongly on the Type or Style you've picked; in fact, for other factors data charts are generally only for a specific Type or Style that we carry (e.g., as a gear shop, would be outdoor-specific products).
We've organized the most commonly used items people use to address the Core function below, with example images, characteristics, features, etc.
Our category name
Single-use
cooler
Standard
cooler
Technical
cooler
Thermoelectric
cooler
Solar
cooler
Example qualities & features
Example images
What does it need to keep cold?
Ice or ice packs
Electricity
How long will it keep things cold?
Up to 1 day
Up to 1 weekend
Up to 2 weeks
As long as there's "fuel"
Is it durable?

E.g., Styrofoam; really not worth it

Less so if made with fabric, a soft-shell, vs plastic, a hard-shell

Some models are certified bearproof storage devices

All hard-shell
Effect on other factors
Price
<$20
$10-100
$300-600
$100-1000
Size (Capacity)
Small lunchboxes or Thermos to mini-fridge sized
From 26qt (25L) to mini-fridge sized
Rationale
Less technical
More technical

Why we do/don't carry it

= we rent
= we sell
There may be issues with durability



Standard for most outdoor uses. For rent only because it's not outdoor-specific enough for us to sell

Most people would not need something this technical
If you don't go very often, of course you're going to want to spend less money, but this often means real trade-offs in terms of the experience that you will have with the gear. Even if you do go often & are ready to invest in quality gear, having the upfront funds can be hard!
Now, it may seem like this price & quality trade-off is disappearing, because you can find a cheap version of almost anything for tens of dollars that still has good reviews (assuming the reviews are real). So you might be thinking: I'll just buy something cheap, and because the price is so low it doesn't matter if it's less featured or heavier or whatever compared to something higher end. When that breaks, I'll buy something cheap again, and so on. Just remember:
What's better than cheap? FREE! And we have a gear library of items you can borrow for free!
Many reviews are written after only a trial use or first use: We've seen entire review videos of gear done at home, which is very different than actually being outdoors! And reviews after the first use don't tell you about durability at all
You're headed outdoors to relax and enjoy life! Saving money only to have a trip ruined due to quality issues will feel terrible. Our program to rent coolers is designed to help you avoid this trade-off: you get to rent high end, quality coolers for around the same price as buying cheap ones (sometimes even for less!)
For this item specifically, the price vs. quality trade-off issues center around performance & durability.
For coolers, performance & durability are linked (a punctured cooler doesn't insulate!). Therefore given the above, we definitely do not recommend single-use coolers.
However, all the other types of coolers fundamentally have to insulate, which means reaching a pretty good minimum level of durability. In fact, for most use cases, a standard cooler is probably sufficient (technical coolers are favored by hunters who need to keep game cool for long periods of time).
Methodology notes on prices shown on this page
In most of these gear guides, we have a table with the various possible capacities & general use cases in the outdoors. That's almost impossible to do with coolers, because the use cases are so diverse! We've tried to capture a few below for reference, and know that you can always try to rent a cooler to test what size works best. Of course, the bigger the cooler, the more expensive!
Picnic lunch: 10 quart (9L) for a nice picnic spread & some drinks
Camping: 40-60 (38-57L) quart for a weekend for 2-4 people
Drink fridge: Rule of thumb: in a cooler, 1 quart = 0.75 cans = 1 bottle, coolers often have approximate can or bottle capacity written on them as well!
Hunting or fishing: Usually at least 60 quart & likely more than 1 depending on size of animal
Additionally, you'll want to think about a cooler fitting in your vehicle or in a stationary bearproof storage (bear box). Some examples:
At 40+ quarts (38+L), coolers may be too tall to fit in a bear box or car trunk
Although, coolers without wheels are "flatter" in shape & may fit better
Even the largest coolers can usually fit in a car's backseat
If you have a cooler that you normally use, but that won't fit in a specific space for a trip, you can easily rent a cooler for a few dollars!
Here, we give you a list of questions to start thinking about other features. We hope our approach of savings these features for last gets you to more critically think about what you need & not get caught up in the hype of what's cool and over-spend your budget. Remember, we allow you to hire a cooler so feel free to try out various models with different features.
Does it have wheels?
Does it have locks on the lid for security & to seal in the cold?
Are there cup holders (on the lid)?
Is there a separate ice tray for drinks?
Is there a drainage spigot at the base?
Can the lid be used as a seat?
---
Usage tips
Coolers perform at their best when they are pre-chilled. You can do this by filling it up with ice (or putting it in your freezer if it fits) overnight. Then put in fresh ice before your trip starts. Since ice is so bulky, consider using reusable ice packs! If you can't pre-chill, at least try to keep your cooler in a relatively cool place; you don't want to have it be pre-warmed either!
---
Maintenance tips
Cleaning
It's important to clean between uses. No one wants food pieces to go bad inside! Thoroughly rinse with soap & water after use
Storing
Don't put it away or close any lid(s) until it's fully dry
We have a general protip on how to store & maintain gear that we highly recommend reviewing as well. If you send us video or a good photo series, we may be able to help you evaluate your repair needs.
---