Our Guide to Portable Tables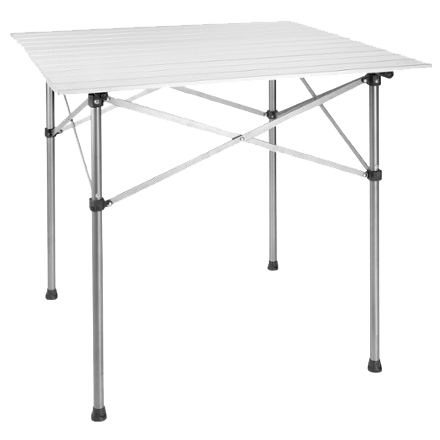 Our mission is to get people outdoors. Since most people aren't enthusiasts who venture outside regularly, you can buy or rent portable tables. Specifically, about our portable table rentals:
We rent portable tables that are higher end than those rented elsewhere, but still offer competitive pricing
We offer a rent-to-buy program so you don't have to worry about losing money from renting
Our self-service allows you to hire portable tables whenever is convenient for you
Core function: To duplicate the creature comforts of home in the outdoors
Do you really need it?
No, especially since many developed car campsites will have picnic tables and benches. That said, if you're planning a more "formal" experience outdoors (e.g., a work retreat or a wedding), renting tables can be an easy alternative .
For more info, read our 'what you really need' protip
What we carry
Accordion style
Set-up poles, unroll table across poles
Model
REI Camp Roll Table
CampChef Mesa Table

Buy

MSRP with tax

$70
value
$152
value
Rent
$6+
Capacity
28in square & 28in tall
71cm square & 71cm tall
48X27in & 27-39in tall (adjustable height)
122X69cm & 69-99cm tall
Weight
8lbs 8oz
3.9kg
22lbs
10kg
Carry size & notes
Over-the-shoulder carry case, but will still fit into a 70L hiking backpack
Large carry case, 48in (122cm) long, best to have a vehicle to transport
General Notes
We choose what we carry based on extensive research on what's the best value to our customers (e.g., price given performance & durability features) across all the top brands. We specifically do not carry every brand & model; for details on why we do/don't carry certain items in the following What To Use & How To Choose section
Buy prices a grayed out box indicates we don't sell it (we may only rent portable tables of this model)
Rent prices are the starting prices; enter trip dates on our Catalog to get exact prices (based on total trip length, not per day!). We also don't charge sales tax, an automatic savings of almost 10%!
When you hire portable tables online, you can select from available options or we'll pick out something for you. You can also write-in any preferences on the last page of checkout. This section describes the majority of our models & options, but sometimes we carry others.
---
What to use & how to choose
Sometimes it's easy to get lost in all the hype of something new (over-spending often happens on features). Our guide focuses on the fundamental factors you should always keep in mind (thus, this short list is similar across all items). Then only at the end do we have some questions to get you thinking about other minor features. Also take advantage of renting portable tables to try out what works for you!
We highly recommend reviewing Type or Style first, where we review what you can use to address the Core function--a regular item you have at home may work! The other factors are secondary & depend strongly on the Type or Style you've picked; in fact, for other factors data charts are generally only for a specific Type or Style that we carry (e.g., as a gear shop, would be outdoor-specific products).
We've organized the most commonly used items people use to address the Core function below, with example images, characteristics, features, etc.
Our category name
Hard-sides
Soft-sides
Folding style
Accordion style
Pitched style
Example qualities & features
Example images
How to set up
Just unfold
Set-up poles, unroll table across poles
Set-up poles, stretch fabric across poles, like a really easy tent!
Table height
Standard 28-30in
(71-76cm)
Most compatible with standard height chairs
14-16in
(36-41cm)
Most compatible with shorter pitched style chairs
Table surface
Hard plastic
Hard aluminum
Polyester
(flat, rigid surface, but still fabric-based, so may not be as good for cooking)
Effect on other factors
Price
$50-80
$40-100
Capacity
Card table* to very long for groups
Usually a card table* or slightly bigger
Usually very small, designed to hold a few cups or bowls. Feels like an end table to casually hold things rather than a table to gather around. Largest may be just a card table*
Weight
10+lbs
(4.5kg+)
5-10lbs
(2.3-4.5kg)
1-5lbs
(0.5-2.3kg)
Size
You'll need a vehicle to transport this (possibly a truck)
~2-3ft (0.6-0.9m) long & maybe bulkier than a camera tripod
From a little smaller than a 2-liter soda bottle to just shy of the accordion style size (there's a wide variety)
Can be slung over-the-shoulder
Smallest ones may fit in a regular backpack; will definitely fit in a hiking backpack
Rationale
Less technical & more material, no consideration for Weight & Size
More technical & less material, Weight & Size specifically optimized

Why we do/don't carry it

= we rent
= we sell
Not specific enough for outdoor use



Versatile for most outdoor uses, therefore more worth the money

Small size makes it not suitable for cooking, a common use
*A card table seats 1 person on each side, roughly a square with length of 30-35in (76-89cm) on each side
If you don't go very often, of course you're going to want to spend less money, but this often means real trade-offs in terms of the experience that you will have with the gear. Even if you do go often & are ready to invest in quality gear, having the upfront funds can be hard!
Now, it may seem like this price & quality trade-off is disappearing, because you can find a cheap version of almost anything for tens of dollars that still has good reviews (assuming the reviews are real). So you might be thinking: I'll just buy something cheap, and because the price is so low it doesn't matter if it's less featured or heavier or whatever compared to something higher end. When that breaks, I'll buy something cheap again, and so on. Just remember:
What's better than cheap? FREE! And we have a gear library of items you can borrow for free!
Many reviews are written after only a trial use or first use: We've seen entire review videos of gear done at home, which is very different than actually being outdoors! And reviews after the first use don't tell you about durability at all
You're headed outdoors to relax and enjoy life! Saving money only to have a trip ruined due to quality issues will feel terrible. Our program to rent portable tables is designed to help you avoid this trade-off: you get to rent high end, quality portable tables for around the same price as buying cheap ones (sometimes even for less!)
For this item specifically, the price vs. quality trade-off issues center around performance & durability.
Methodology notes on prices shown on this page
There is a lot of variety in tables, including in shapes (e.g., circular tables) that can affect capacity. A big consideration here would be, do you want a table that you can pull up a seat to, or just a table to hold some items off to the side? As the table above shows, this varies by Type or Style (see first section), try renting a portable table to better understand what you prefer
If you're thru-hiking 20+ miles (32+km) per day, every advantage counts! In this case, size refers to compactness. You can carry more gear in the same size backpack if all of it is very compact, or for more weight savings, you can get a smaller size pack.
There isn't a separate comparison table, because weight & size are functions of Type or Style (see first section). Most people who really care about weight & size wouldn't bring a table. That said, the closest to a backpacking suitable table is the pitched style (similar to with portable chairs).
Here, we give you a list of questions to start thinking about other features. We hope our approach of savings these features for last gets you to more critically think about what you need & not get caught up in the hype of what's cool and over-spend your budget. Remember, we allow you to hire a portable table so feel free to try out various models with different features.
Does it have integrated cup holders?
How easy is it to clean the surface material? (e.g., fabric requires washing whereas plastic or metal can just be wiped down)
Is the surface suitable for cooking? (i.e., can it resist heat? remember, even if the bottom of the stove doesn't get hot, hot foods may spill or you may need to rest hot cookware on the table)
Can you sit on it? Many camp tables can't support body weight & will collapse
---
---